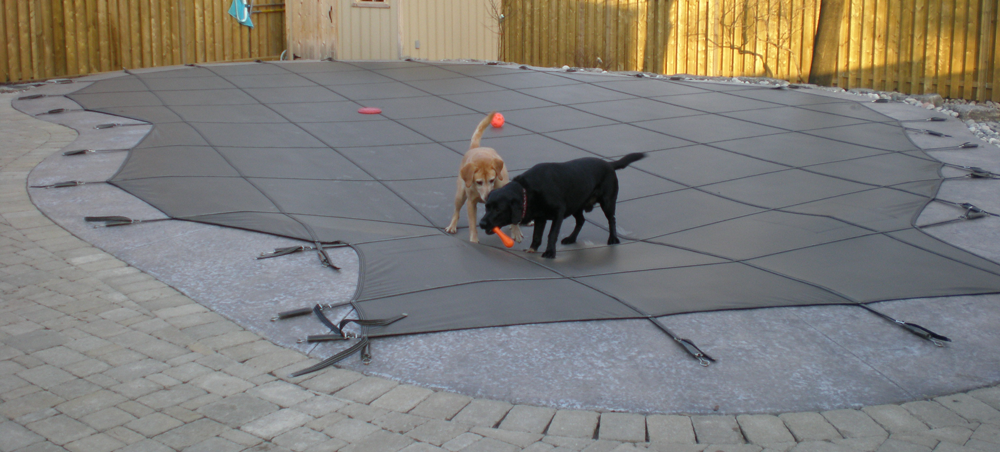 Pool safety cover
We know that when it comes to owning a pool, your family's safety is priority.
Our POOL GUARD pool safety cover is renowned in the industry for its strength, durability, safety and ease of installation. In addition to protection against dirt, this cover has been designed to protect your children from drowning. This cover is a maintenance-free cover that provides pool owner complete peace of mind during the off-season.
Pool Guard offers a 12 years warranty for our safety pool covers.
SUPERIOR PERFORMANCE AND PROTECTION
Easy installation and storage
Each canvas is made bespoke designed by using lightweight materials for a quick and easy installation.

Ultimate Swimming pool safety covers to protect children and pets.
Our safety covers offer an innovative "trampoline" effect, which means that the webbing will bend but not break. The cover is fixed to the ground using reinforced springs and anchors, so you can be sure that they won't rip, tear or come undone. It is specially designed to withstand the damage caused by the rays of the sun, snow, rain and wind. Finally, it allows maximum security, since a child or adult can walk on it without any problem.
Rigid swimming pool cover
This canvas prevents debris, leaves and dirt to go under the cover. As a result, the water under the cover remains intact all winter. Opening in the spring, cleaning, chemicals products and maintenance costs considerably reduced.
Enhance the aesthetics of your backyard.
Choose the colors that match your taste and get a perfectly fitted custom-built swimming pool cover with our specialist POOL GUARD. Plus, without paying more, you will get a durable safety pool cover that meets or exceeds ASTM F 1346-91 standards for pool safety covers. It is available in blue, green, gray, and tan.
Safety winter swimming pool covers, to prevent intrusions and accidental falls into the pool.
12 years warranty
Secure your pool from your children and animals
Stainless steel anchors and springs
Anchoring system is solid and weather resistant
Easy and safe installation (in less than 30 minutes after the first installation)
Exceeds all safety cover performance standards in ASTM F 1346-91
Remove dirt, debris and standing water, in order to facilitate opening the pool in the spring.
Pool Guard Safety COVERS that facilitate the circulation of rain rainwater but block the sun, reducing the risk of algae formation (Block 98% of solar rays)
Improve the aesthetic and attractive appearance
Including a storage bag
Colors: Blue, green, gray and tan