Magnalatch gates & fencing
To avoid oversights, install passive security devices so that your fence gate closes and locks automatically. The Magnalatch lock with self-closing hinges can be installed on all type of gate. This fence lock is ideal for securing an aquatic or other area. Easy to use and efficient. The Magnalatch lock is the #1 security accessory in the world.
Fence with a self-closing gate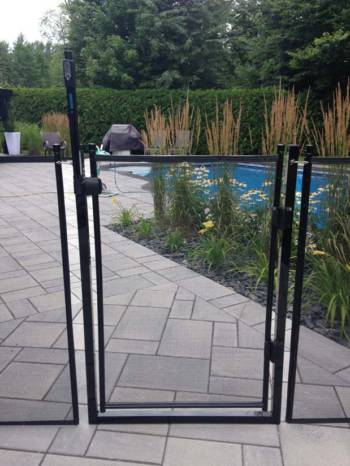 The fence gate must be equipped with a passive safety device allowing it to close and lock automatically. The gates of the Pool Guard fences are equipped with a Magnalatch self-closing lock that can be locked with a key.
The lock can be installed either inside or outside of the enclosure. This gate offers the best safety operation of the industry. Pool Guard fences have the advantage of offering a transparent effect and having an unobstructed view of the swimming pool and the landscapping.